---
2016 M&A Trends Report
The creative expertise and technological prowess in Israel's high-tech sector once again shines through in recently published data, confirming Israel's central role as a hub of innovation and a key factor in global M&A trends. The first nine months of 2016 saw almost US$15.8 billion capital invested in Israel in 144 deals, almost two thirds of which related to the high-tech and IT sector.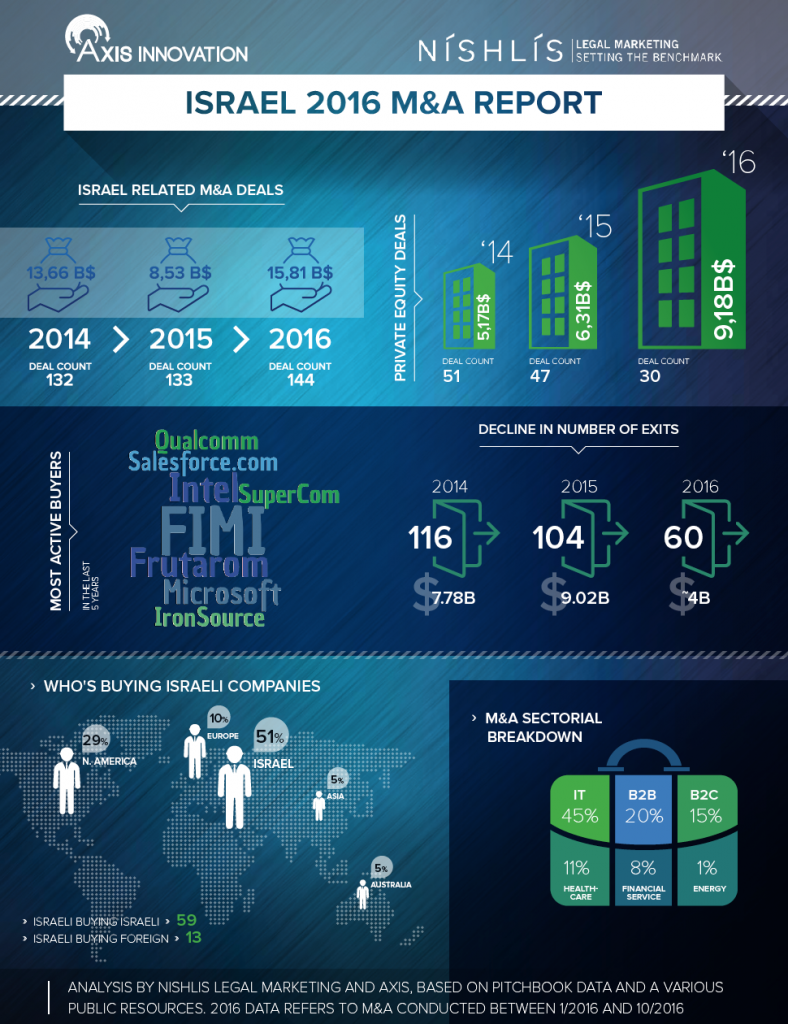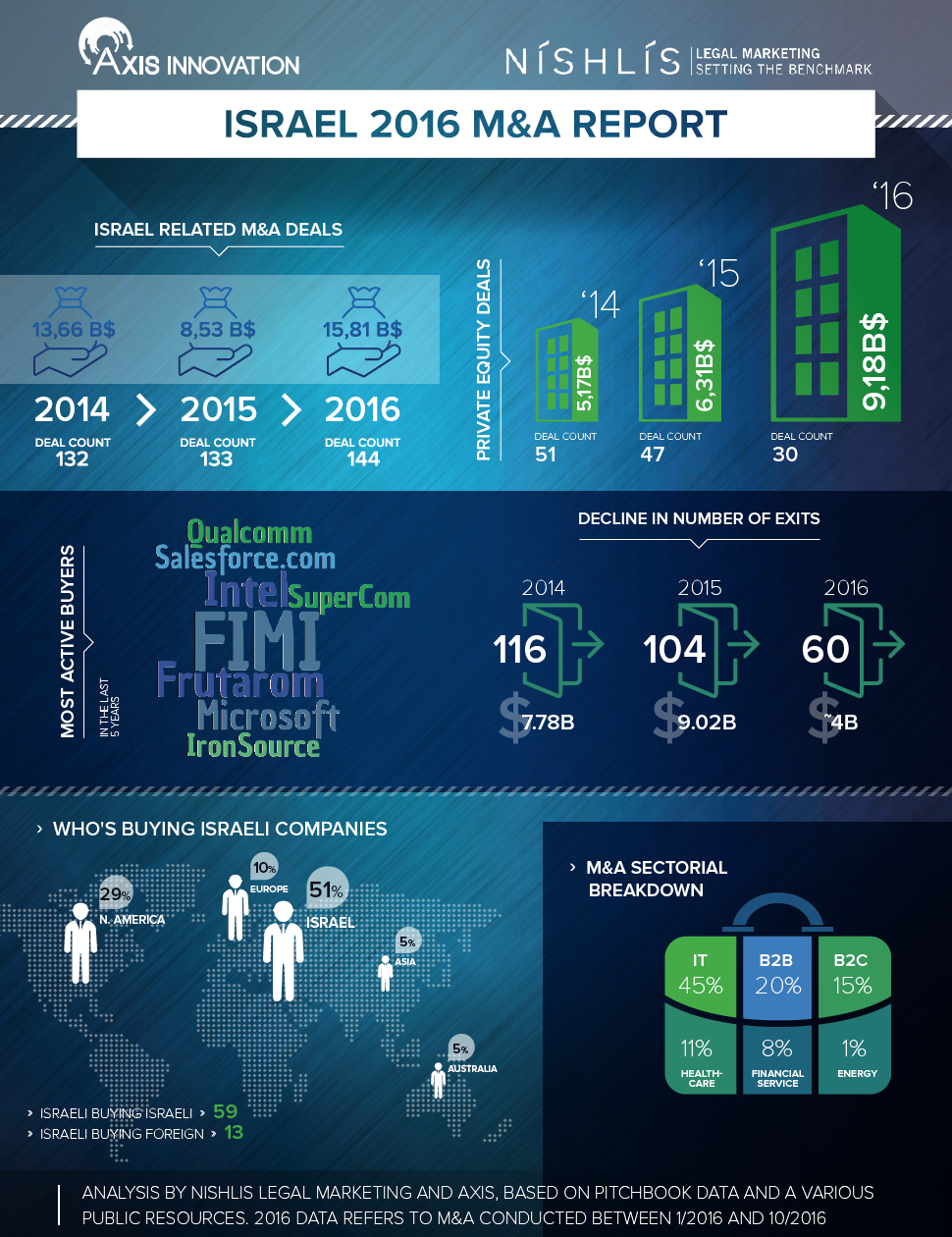 There is undoubtedly a growing confidence and maturity in this sector as Israeli high-tech companies focus on growth, raising capital and making their own acquisitions, rather than a quick exit. This is borne out by research by the IVC Research Center, which noted that the number of exits fell sharply during the first half of 2016 to US$3.32 billion, and of the exits to take place, three of them accounted for 57% of the market: the US$643 million buyout of Xura by Siris Capital; US$430 million acquisition of Ravello Systems by Oracle; and the largest, the US$811 million acquisition of EZchip by Mellanox Technologies Ltd was an all Israeli affair, reflecting a growing trend where the volume of deals comprising both an Israeli buyer AND seller is rising.
In addition to acquiring other companies, Israeli high-tech companies are looking to raise further capital and are increasingly looking at foreign exchanges with confidence. Certainly, Australia has become a 'promised land' for innovative Israeli startups. Israeli materials company Dotz Nano became the latest in a wave of active tech firms down under to seek a listing on the Australian Stock Exchange, making it the 8th Israeli technology firm to list on the ASX in the last two years.
Such is Israel's reputation as the start-up nation, many jurisdictions are looking first to Israel as they look to make investments, add valuable acquisitions or diversify their portfolios. In December 2015 the Australian government announced that Tel Aviv would be one of just two destinations chosen to host a start-up high-tech incubator, aimed at boosting its own start-up expertise. Meanwhile, in view of falling energy and mineral prices, large Australian mining and resource companies are expanding and diversifying their portfolios, with six M&A transactions in 2016. For example, in April 2016 Australia's Azonto Petroleum acquired three-year-old Israeli startup Clipfort for around US$28 million. Israel remains a strong magnet for China. Last year, Chinese investors spent US$470 million acquiring Israeli high-tech companies, according to an article in The Shanghai Daily. This year, venture capital investment in Israel is expected to top US$500 million.
In terms of the big-ticket M&A deals in Israel, private equity still leads the way. 2016 has been a bumper year with 30 private equity and M&A transactions accounting for US$9.2 billion in the first nine months of 2016, already a 45.4% jump on 2015. Three Asian private equity firms were involved in some of the largest transactions. For example, Alibaba founder Jack Ma's private equity firm Yunfeng Capital featured in the Chinese consortium which bought online games company Playtika for US$4.4 billion. This trend is expected to continue. Neusoft, one of China's biggest IT companies, created a US$250 million fund with Israeli-Chinese private equity fund Infinity Group in order to boost Israeli med-tech companies working in China.
Comments
comments