---
Israel Desks International Legal Guide 2017 – Chapter Review
Nishlis Legal Marketing and the ACC – Israel are proud to present Israel Desks International Legal Guide 2017. Some of the largest law firms around the world shared their own insights, offering a current and comprehensive picture of latest market trends, regulation and the opportunities available for Israelis interested in activities abroad, across various sectors and practice areas globally.
For the digital version of the guide, click here >> http://israeldesks.com/israel_desks_international_legal_guide_2017/#1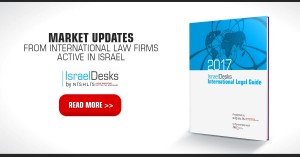 Among the Chapters Covered:
Changes in Political and Regulatory Environments and their Effect on the Energy Sector, authored by Allan & Overy.
Polls failed to call the two seismic political events of 2016: the UK referendum in favor of exit from the EU (Brexit) in June, and the election of Donald J. Trump as president of the U.S. in November. How such dramatic political changes translate into regulatory change in the energy sector and how energy companies navigate such changes will be a big story in the coming years.
It was not just those in the energy sector who were left scratching their heads when the UK voted for Brexit, and it is not only Israeli investors who will need to tread carefully as the world's biggest demerger unfolds. Brexit will affect both Europe and the UK. Read more.
FinTech: A Case Study of Opportunities and Challenges, authored by Cohen & Gresser.
The extent to which technology permeates our lives increases daily. One area of particular note is FinTech – technology designed for use in financial services. FinTech has grown rapidly over the past few years, with start-ups in the area receiving over US$25 billion in investment in each of the past three years. Read more.
Corporate Immigration in the Age of Trump, authored by Schear Immigration.
The inauguration of President Donald J. Trump marked a time of great concern for Israeli companies seeking to expand into the U.S. market. The months leading up to Trump's entry to office were fraught with rumors and speculation regarding his immigration agenda and the possible negative impact on foreign high skilled labor. His promise to "Put America First" by protecting the local job market and severely limiting an already restrictive system for obtaining U.S. work authorization invoked panic amongst Israel's high-tech sector. This, coupled with the immediate implementation of executive orders aimed at banning the entry of certain foreign nationals, has placed U.S. immigration at the forefront of interest for the international business community. Read more.
Six Trending Topics in U.S. Employment Law, authored by Fox Rothschild.
When you ask the general counsels of U.S. companies which area of law worries them the most, employment law frequently tops the list. The legal requirements placed on employers change rapidly and the cost of a misstep can be devastating. Here you will find six key trends employers with U.S. operations must watch in 2017. Read more.
The Long Arm of U.S. Regulators Extends to Israel Now More Than Ever, authored by Kobre & Kim.
The passage of the Foreign Corrupt Practices Act (FCPA) in 1977, and 40 years of aggressive law enforcement have, as many have noted, imposed an American definition of corruption on the entire world. As such, the U.S. Department of Justice (DOJ) and the Securities and Exchange Commission (SEC) are continuing to vigorously pursue non-U.S. companies operating outside the United States, as well as U.S. and foreign companies with a close connection to U.S. commerce.
Of particular relevance to Israeli companies and their ownership and management teams is the DOJ's continued aggressive international application of the FCPA. Even minimal contacts with U.S. markets can expose conduct that might otherwise be legal in Israel as corrupt practices under U.S. law, leading to massive fines and criminal sanctions. Read more.
Seize Opportunities in France, authored by Bersay Associes.
There is currently real "momentum" for M&A in France. This momentum is due to several factors including the fact that large companies are generally in good financial health while the EU as a whole is undervalued and interest rates are low (although they are expected to rise). The French M&A landscape was very dynamic in 2016 (the total amount of transactions exceeded US$89 billion, an increase of 11% compared to 2015).
With the digitalization of the French economy, companies are eager to acquire new technologies. In this innovative landscape, France is about to become the "Start-Up Nation" of the EU. Read more.
The Landscape of Italian M&A Deals, authored by Simmons & Simmons.   
Last year was a record-breaking year for mergers and acquisitions in Italy. Despite market uncertainty surrounding the Italian Constitutional Referendum, Brexit and the U.S. election, Italian M&A activity resulted in 509 deals in 2016. This is the highest annual deal count registered since 2001 and the seventh-consecutive yearly increase. Among the most active foreign investors in Italy are those from China, who invested €834 million spread over 14 transactions last year. Read more.
Why Israeli Businesses Should Not Ignore China and Europe when Developing their Patent Strategy, authored by Mathys & Squire.  
Israeli companies naturally see the U.S. as their number one priority when seeking overseas patent protection for their technology. However, Europe and China, the two other world economies of similar size, have some considerable differences in local patent practice, so an IP strategy focused primarily on the U.S. might well lead to missed opportunities in these other major markets. Read more.
Israel and GDPR: Processors Take Note, authored by DLA Piper.
On 4 May 2016, the text of the General Data Protection Regulation (GDPR) was finally published in the Official Journal of the European Union, concluding over four years of intensive legislative work on a new data protection legal framework for Europe. While it may not be immediately apparent how a change in the European data protection and privacy framework may impact Israeli companies and Israeli business, both the scope of the GDPR and the significant role played by the technology sector in the Israeli economy mean the coming change is likely to significantly impact on a range of activities undertaken by Israeli businesses. Read more.
Israeli Investment in U.S. Real Estate, authored by Goulston & Storrs.
The United States has been a most popular destination for foreign investment in real estate for a few reasons, including the relative stability of the U.S. market, the strength and reliability of U.S. rule of law, transparency and limited government interference. Brexit and certain relaxations in the Foreign Investment in Real Property Tax Act (FIRPTA) of 1980 are also making the U.S. increasingly attractive to foreign investors.
Israeli investors have been one of the fastest growing groups of foreign investors in U.S. commercial real estate over the past decade. They have typically invested in projects in New York and on the West Coast, but have also ventured into secondary and even tertiary markets. Read more.
Comments
comments