---
Legal 500 Insights and Tips from the Editor
With the Legal 500 deadline fast approaching, we asked The Legal 500 EMEA Editor, Ella Marhsall, to provide us with insights and tips that will help you improve your upcoming submissions.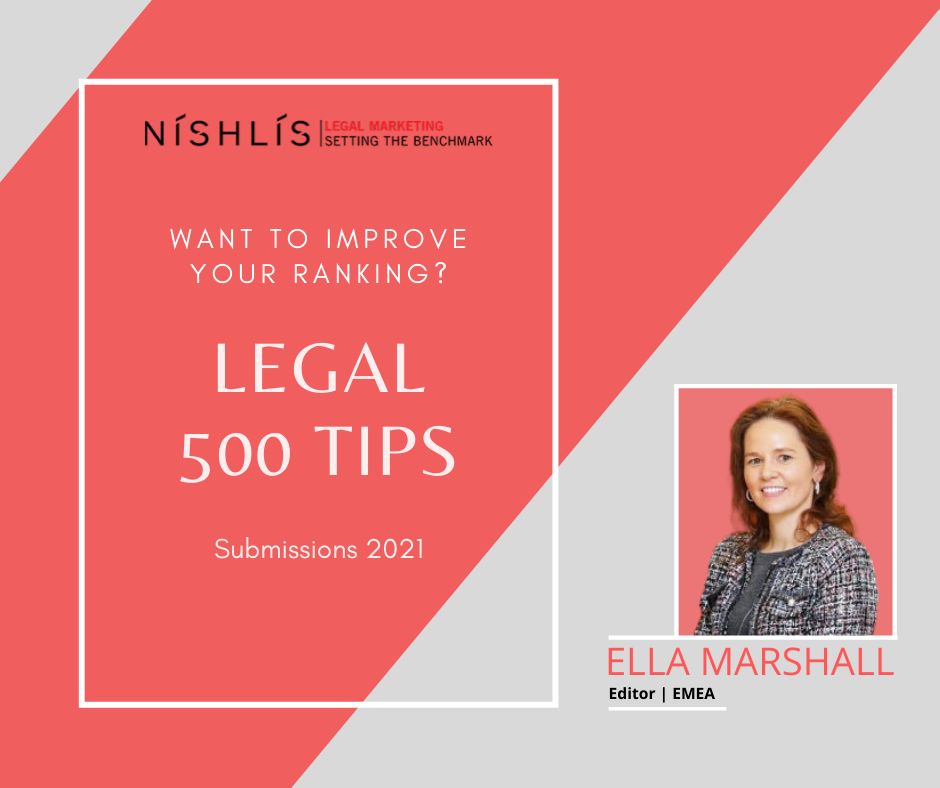 In terms of pointers, I'd include the below as a general guide to all firms:

Use the templates available on the website for the submission and please be aware that these have been updated for the 2021 research.
Use the intro to set out what distinguishes the practice from others in the market, including any niche specialisms.
Make use of the individual categories to nominate leading individuals, next generation partners and rising stars but also be realistic and focus on the genuine standout names in each category. Including numerous names makes it particularly difficult for the researcher to discern the key names.
Individuals: we have an evidence-based approach to the ranking so make sure that the lawyers you are nominating for individual accolades are visible in the work highlights, ideally in prominent roles.
We don't cap the number of referees that firms can put forward so ensure that you are putting forward referees who can attest to the strengths of leading individuals, next gen partners and rising stars.
Matter highlights: 
Focus on the top 20 matter highlights, clearly stating why the work is novel or complex
Avoid an explanation of the client's business in the matter descriptions
While it is fine to include ongoing work, please provide an update of work handled during the relevant research period
Complete all boxes in the matter highlight summaries, including start and end dates (ongoing if applicable)
Note that we cannot guarantee that additional matters, i.e. more than the 20 we ask for, will be read
EMEA 2021 will be considering work handled between August 2019 and July 2020
Comments
comments