The resilience of the Israeli economy, driven by the vibrant tech and booming real estate sectors, has shone over this challenging year. The groundbreaking business intelligence tool, Legal-BI tool, which analyzes data in the legal sector, reflects these trends with some insights about the increasing workload for law firms and those involved.
2021 has given the Israeli economy a huge and unexpected boost, leading to a knock-on effect in the legal sector.

The high-tech sector continued to show impressive growth, especially among start-ups; there was a quake in the capital markets with unprecedented offerings breaking new records; and there was a jump in demand for real estate properties. This led to a tidal wave of transactions in a short amount of time, with law firms witnessing a massive increase in workload.
As we roll on to 2022, we look back at 2021, with the help of Legal-BI, the first of its kind groundbreaking business intelligence platform to summarize the year. With a database consisting of 4,000 Israeli companies, spanning nearly 8,000 matters and 152 ranked Israeli law firms, we can see the major legal trends and key players. While this is far from being a definitive list (not all data is public and not all the law firms publish their clients and matters), it is comprehensive enough to give us a good indication of the market activity. In addition, the information listed below, pertaining to law firms, should not be seen as absolute or as a ranking, but as a list of nearly equal active firms per sector.
Most vibrant sectors
The most active sectors in the Israeli market, in 2021, based on Legal-BI data, collected from 152 law firms:
High-Tech Train Keeps on Rolling
Start-Up Nation Central carried out a report showcasing the volume of investments by Israeli high-tech companies, which increased by 136%, to USD 25.4 billion compared to USD 10.8 billion in 2020. 2021 also set a new record in issuances and acquisitions: 119 companies were acquired in 2021 and the number of issuances soared from 22 in 2020 to 57 in 2021, with the overall fundraising exceeding USD 4 billion, compared to USD 1.7 billion in the previous year.

The most active law firms in the High-Tech sector based on a sample size of approximately 400 companies in the field (data pertains to the number of reported clients):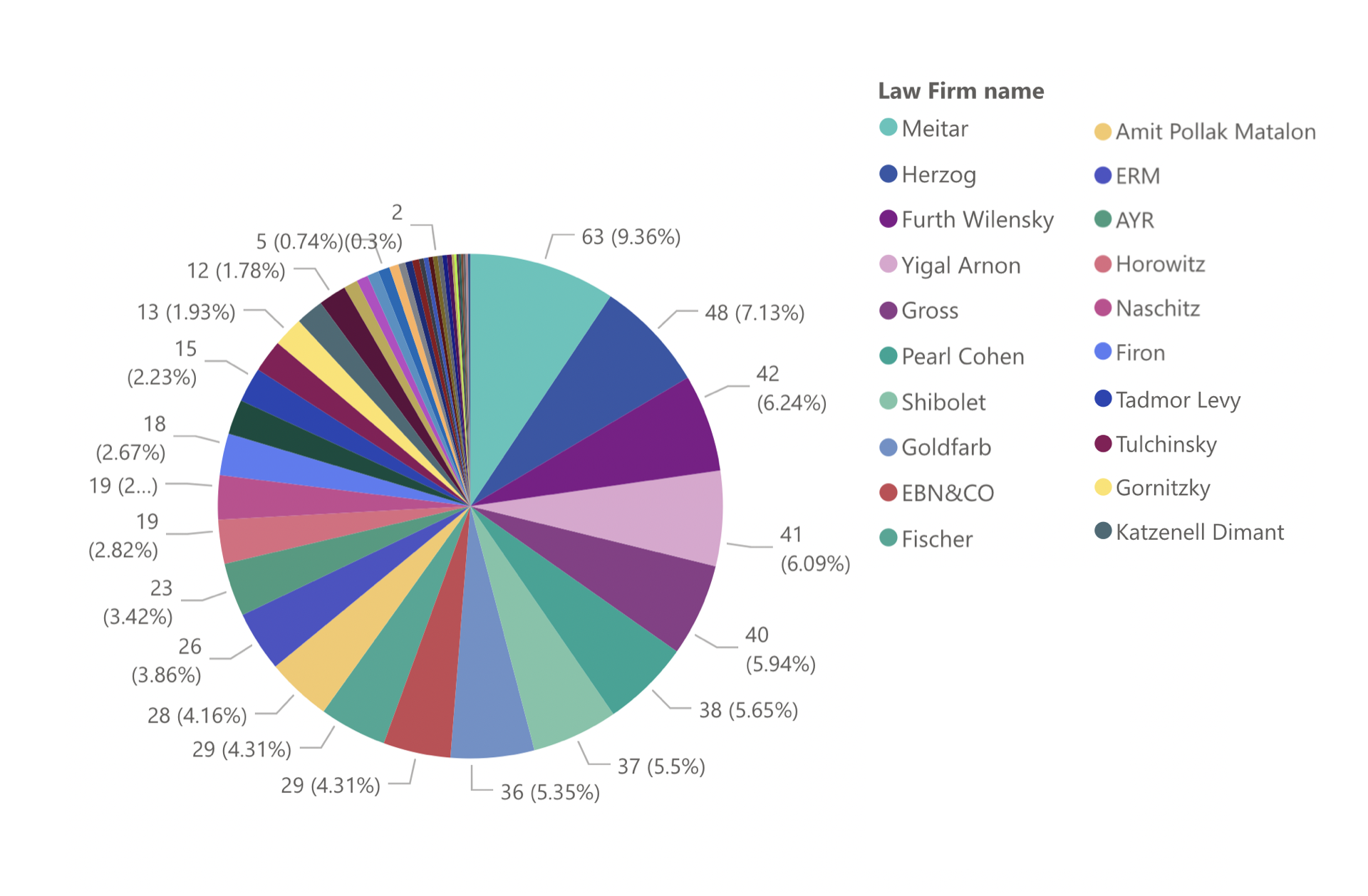 In 2021 33 Unicorns were born, bringing the total of Israeli companies worth USD 1 billion or more to 53. This is almost twice as much as those who achieved the Unicorn status in 2020. The graph you see below shows the Israeli law firms representing the newly born Unicorn companies:
Rapid Growth of Real Estate
The housing price index has crossed the 10% threshold for the first time in a decade and 2021 looks set to be one of the best years on record in the real estate sector in Israel. According to external sources, over 120,000 real estate transactions took place, backed up by evidence in Legal-BI, which placed real estate at the top of the list of sectors employing outside law firms.
Here's a list of the most active law firms operating in the real estate sector based on a segmentation of nearly 400 real estate companies (data pertains to the number of reported clients):
Note: In 2022, we may witness changes in this table due to two significant mergers: Erdinast Ben Nathan, Toledano & Co. merged with Hamburger Evron and Fischer (FBC & Co.) welcomed the arrival of the real estate team from Amit Pollak Matalon.
The Financial Sector Grabs the Attention of Law Firms
The banking and finance industry has soared as well and according to the data compiled, the three leading Israeli banks, Bank Hapoalim, Bank Leumi and Discount Bank, the main beneficiaries of this growth, work with more than 20 law firms, with Bank Hapoalim in front, working with 23 law firms, across a range of practice areas and legal sectors.
Focusing on banking and finance work, Bank Hapoalim works with 15 law firms, Bank Leumi with 13 law firms, Bank Discount with 15 law firms, and Bank Mizrahi with 12 law firms.

When examining date from institutional investors, the largest insurance companies employ as many as the banks: Menorah and Harel work with 19 law firms, the Phoenix work with 18 law firms, Clal with 17 law firms and Migdal with 14 law firms.

The most active law firms in the banking, finance services and credit sector (data pertains to the number of reported clients):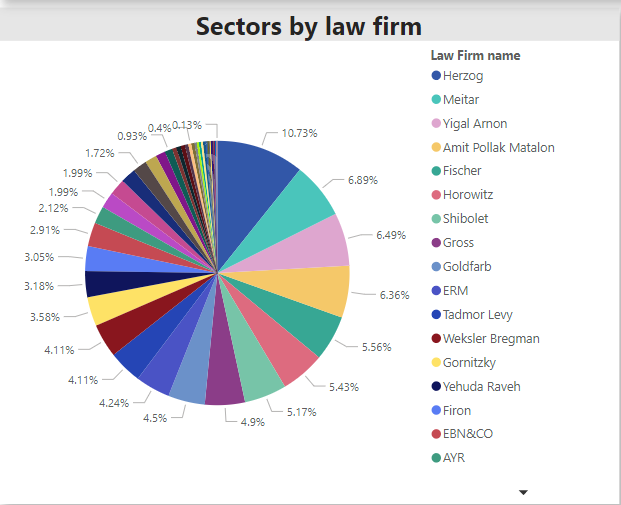 Enhancing Legal Services
From a law firm perspective, we can spot the significant, profound relationships between law firms and their clients, on the platofrm. Cross-selling has been known as the holy grail of a firm's marketing strategy (we'll dig much deeper on a separate article) and the highlighted law firms according to the Legal-BI system are the following:
Herzog – represent the IEC in 12 departments.
M. Firon – represent Ashtrom in 10 departments.
Fischer – represent Discount Bank in 9 departments.
Goldfarb – represent Shufersal in 8 departments.
S.Horowitz & Co. stand out by representing 5 different clients in 8 different departments: Bank Hapoalim, Minrav, Teva, Paz and the Electric Company.
Diversity and Inclusion (Or Lack Thereof)
There's been a lively discussion regarding diversity in the legal sector. When looking at the Israeli market overall, the picture is particularly disappointing. According to the Legal-BI data, only 23% of the ranked lawyers in the country are women, whereas 77% of the lawyers are men.
Although the number of female lawyers with the highest rankings almost matches that of their male counterparts, 80% of the lawyers in the "young and promising" category are men, suggesting there is still a lot to address in the near future. Moreover, the percentage of ranked lawyers doesn't tell the whole story, as the distribution of rankings within legal practices indicates some practices are "female-oriented" while other practices are more "male-oriented." For instance, there are more female lawyers ranked in labor law than men, while in law practices like high-tech, litigation, and corporate M&A, men comprise the absolute majority of ranked lawyers. In litigation, the sample ratio is 40:2.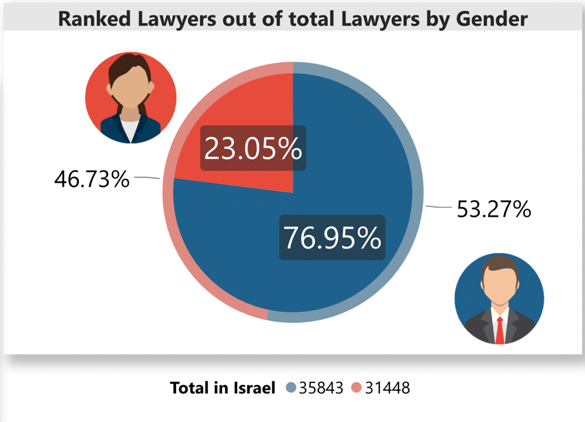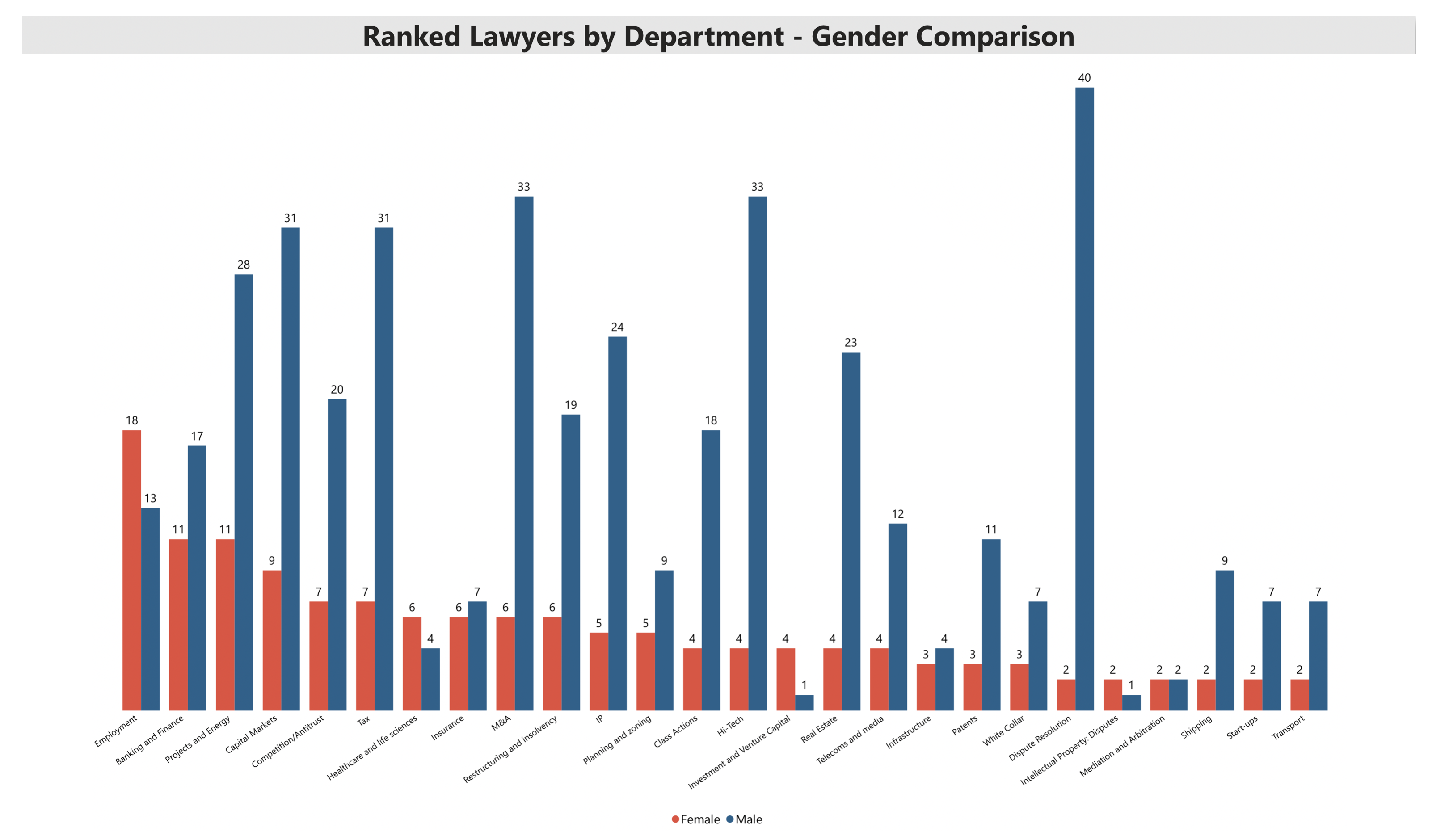 International Rankings Overall
We chose to focus mainly on Chambers and Legal500, as they are the two prestigious rankings guides and their coverage consist of more legal practices.
Ranked Israeli law firms- 152
Israeli lawyers ranked in the individual rankings- 503
The law firms ranked in the most of practice areas: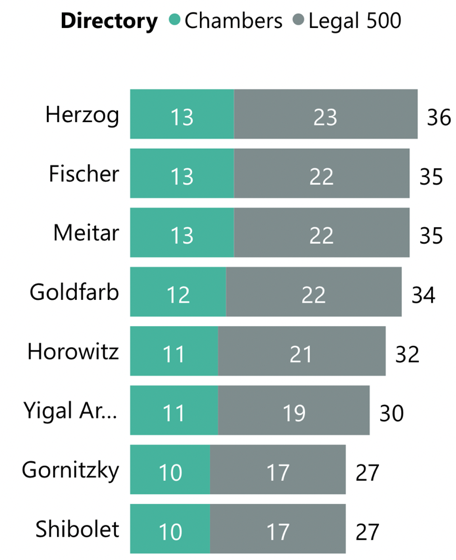 Individuals ranked in the most of practice areas:
Firms with the most top-tier rankings:
About Legal-BI
Analyzing the legal market and providing business intelligence, Legal BI is a groundbreaking platform, for informed business decisions and market positioning. Legal BI provides law firms, GCs and companies a unique competitive advantage by presenting valuable market information to make confident and risk reduced strategic decisions.
Key Benefits:
Market data for informed decision-making and business development. Discover which companies work with which law firms and in which practices.
Business development opportunities through examining potential clients, sectors and practices.
Positioning and benchmarking a law firm – based on comparative analysis of client base, rankings, panels, sectors and more.
Marketing efficiency with respect to collecting legal ranking results, analysis and comparison to other law firms and individuals.
Gain insights into competing law firms, by viewing filtered information into their client base, panels, deal flow, sector strength and more.
Legal BI is a dynamic and flexible tool that gives you actionable information, never previously available, and vital for any legal professional interested in legal business, in general, and in legal marketing and business development, in particular.
Book a Demo
Visit http:www://legal-bi.co to learn more. To schedule a demo and to receive a quote email: nishlis@legalmarketing.co.il.