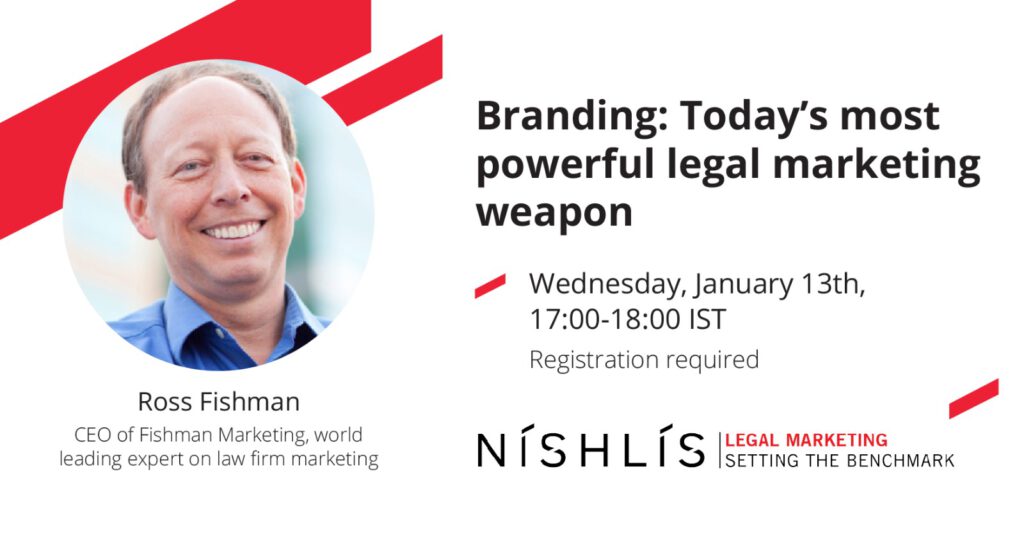 Branding is one of the hottest topics in legal marketing today―that is, building your reputation in a way that positions your firm above your competitors. This is an especially effective strategy during COVID, when legal services buyers are looking online to evaluate the quality of the firms they are considering hiring.
We are thrilled to invite you, Wednesday, January 13th 17:00-18:00 IST, to attend a webinar, with keynote speaker Ross Fishman, CEO of Fishman Marketing, world leading expert on law firm marketing.
This fun and fast-paced program will discuss how to use today's most-powerful techniques to identify your unique brand, then market yourself, your practice, your group, office, or firm, using the full range of marketing tools.  Whatever you do, wherever you go, you must get noticed to succeed, and this entertaining program willprovide many creative ideas re how to do so.
Help guide your firm to build a strong message and identity that stands out in a positive and client-orientedway.  Understand how to identify a unique and differentiated message, supported by networking and socialmedia.
This program will cover:
Ways to identify your firm's unique strengths and differences
Strategies to make your website and online marketing more interesting and eye-catching
Tools to sell the new ideas to your target audience
How to get started
Registration is required: http://eepurl.com/_xZnP