The 2021 edition of World Trademark Review 1000: The World's Leading Trademark Professionals, featuring Israel, has been published.
The WTR 1000 research directory, which focuses exclusively on trademark practices and practitioners, has firmly established itself as the definitive 'go-to' resource for those seeking world-class legal trademark expertise.
WTR ranks the following: enforcement litigation, prosecution and strategy and transactions, with individual rankings for all the three categories.
2021 in numbers:
7 new appearances in the rankings.
8 law firms moved up the rankings.
9 new appearances in the individual rankings.
6 lawyers moved up in the individual rankings.
19 law firms are in the 2021 ranking.
78 IP lawyers in the individual rankings (includes duplications of lawyers who are ranked in more than one category).
New developments in the 2021 rankings:
WTR1000 expanded their research, and in turn, the rankings in the field of transactions, introducing a new leading individual transactions table, consisting of 19 lawyers. In addition, the transactions table, which previously mentioned the top 10 leading law firms in IP transactions has now been expanded to 13 law firms and split into two tiers, with three law firms listed as top tier firms: Herzog Fox & Neeman, Lipa Meir and S Horowitz.
Worth Mentioning:
S Horowitz is the only law firm to be ranked in tier 1 in all three categories.
10 out of the 19 law firms in this years rankings appear in all three categories.
Ehrlich Group has made the most improvement in the rankings, compared to last year – moved up twice and one new entry.
The other three law firms made the most improvement this year:
Salomon Lipschutz – one improvement and one new entry.
The Luzzatto Group – two new entries to the rankings.
S Horowitz – two improvements, both into tier 1.
Individual Rankings:
Law firm with the most leading individuals (includes duplications):
Reinhold Cohn Group – 9
S Horowitz – 8
Herzog Fox Neeman – 5
Adin Liss – 5
Leading individuals with the most appearances (three each):
Avi Ordo – S Horowitz & Co
Gali Opinsky – Lipa Meir & Co
Moran Katz – S Horowitz & Co
16 additional lawyers appear twice and 24 lawyers appear once.
Click here to view the full rankings, as they appear in WTR1000: https://www.worldtrademarkreview.com/directories/wtr1000/rankings/israel
The tables: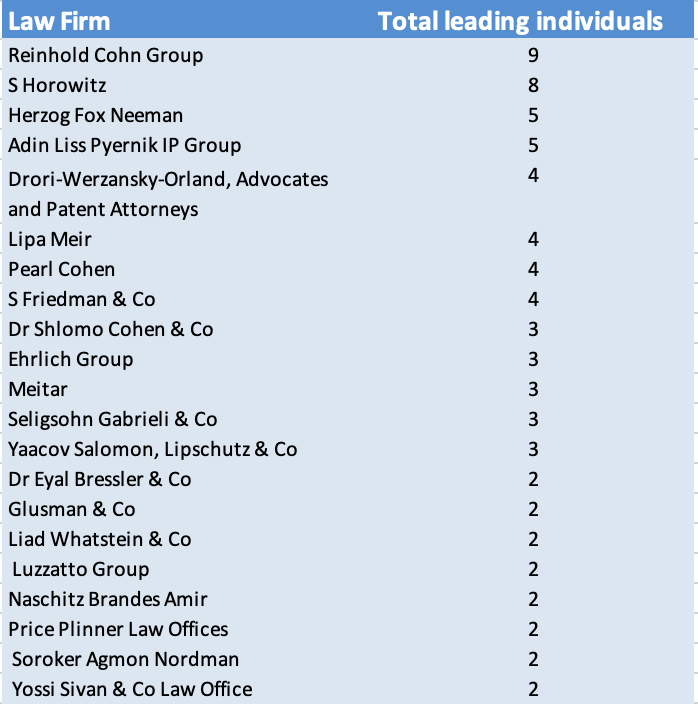 Firm Rankings:
Individual Rankings: